Learn how to sprout seeds quickly and easily using the Easygreen Automatic Sprouter. In the video I show a few tips to make your sprouting with the this amazingly easy to use sprouter more efficient. I use the seed I sell on the site to grow the sprouts with so you can see the quality of the sprouting seeds I offer. The video goes through the entire planting and growing cycle so it gets a little long. Let me know if it was helpful in showing you how to sprout with the Easygreen Sprouter.

Easygreen Automatic Sprouter
Click here to order an Easygreen Automatic Sprouter and start growing an endless supply of healthy delicious sprouts for you and your family.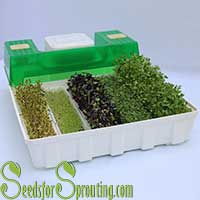 To learn more about sprouts and sprouting you can read more at Wikipedia.