Broccoli Seeds for Sprouting
We are offering one pound of broccoli seeds for sprouting at home. They are sustainably grown without the use of chemical fertilizers, pesticides or herbicides.

Sustainably Grown Organic Broccoli Seeds for Growing Broccoli Sprouts
We know you will thoroughly enjoy your purchase of our broccoli sprout seeds for growing broccoli sprouts at home. They are very popular for growing these superfoods especially since it has been discovered that they have an amazing amount of the cancer-fighting phytochemical, sulforaphane. You can learn much more about sulforaphanes at Wikipedia.com.
They are sustainably without the use of chemical fertilizers, pesticides or herbicides and have be tested and shown free and clear of any such toxic substances. We have grown these seeds for our own consumption for decades.
Research studies at Johns Hopkins University have shown that growing broccoli sprouts from broccoli sprout seeds have 50 times more sulforpohane than a fully grown head of broccoli. On top of that broccoli sprouts seeds contain glucosinolates and isothiocyanates, substances that protect cells from becoming malignant, at 10-100 times greater levels than in fresh broccoli.
A recent study conducted by a research team led by Bernhard Juurlink at the University of Saskatchewan has shown eating sprouted broccoli seeds during pregnancy may provide your children with life-long protection against cardiovascular disease.
Research has also indicated that eating just on serving of 2 1/2 oz. of broccoli sprouts suppressed prostate cancer 3 to 6 hours after consuming. A single serving of broccoli sprouts has been shown to inhibit HDAC activity in human colon, breast and prostate cancer cells. Evidence has also suggested the 2 oz. per day of broccoli or other cruciferous sprouts like cabbage etc. might do away with H pylori infection, the cause of ulcers, in as little as 7 days.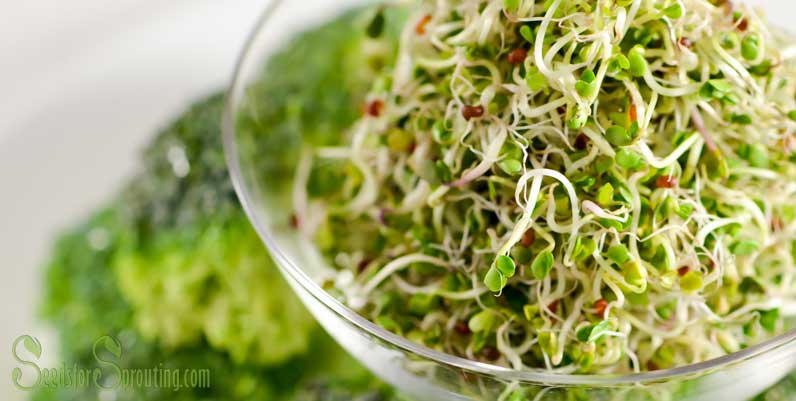 In addition, sprouted broccoli seeds…
are sources of plant estrogens, similar to human estrogen, and so are helpful in cases of PMS, menopause, hot flashes and fibrocystic disease.
Delicious nutritious broccoli sprout seeds are rich source of vitamins A, B, C, E and K, anti-oxidants, the minerals calcium, iron, magnesium, phosphorus, potassium and zinc. Also carotene, chlorophyll, amino acids, trace elements and antioxidants. Sprouted broccoli seeds contain as much as 35% protein. It's time to get started growing healthful broccoli sprouts today!
We guarantee the lowest prices on the Internet for our broccoli seeds and of course satisfaction is always guaranteed.